Geterbrewed visited Crisp Maltings recently to get a tour of the new speciality maltings and automated bagging line
Crisp Malt is investing hugely in the Craft Beer industry, with the spend on recent upgrades being in the region of 6.7 million
Crisp Malt is independently owned and run by a passionate team of genuinely driven individuals. A range of expertise makes up the team, we work closely with our brewers to offer full technical support and a first class service and are privileged to be the exclusive Crisp Malt Irish Distributor
There is alot of choice for the pro brewer and homebrewer now in terms of malt supply but you need to use a malt that you can trust.
Crisp Malt is consistently impressive, they understand the quality product that the Craft industry needs.
The catalogue of Crisp Malt products is one of the largest in the industry. It varies from a range of heritage malts, floor malted malts, a range of base & speciality malts plus flaked & torrified products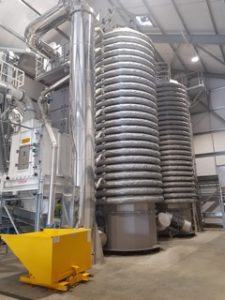 The new speciality malting plant is a game changer, it's highlights include;
1. Highly homogenous final product for improved brewhouse performance
2. Improved roasted flavours as grains are toasted in a confined atmosphere
3. Able to process a wide range of raw materials
4. Massive potential for novel product development
5. Fine control of product temperature to allow exact repeatability of recipes
6. No gases of combustion in contact with product
7. Low emissions & energy consumption
8. Highly efficient heat transfer
The new speciality maltings is an impressive sight, it's operated by off balance electric motors to generate the vibrations for the transport of the grain.
This new technology transports and mixes by vibration and is heated by direct contact with a hot surface. All treatment is carried out in a confined space with 3 independent heating zones processing an impressive 1500kg per hour
The malt we tasted fresh out of the maltings was quite simply beautiful and absolutely packed with flavour
Exciting times ahead for Crisp Malt.