We have some very talented brewers in Ireland and we want to help give our valued brewery customers some marketing support so we have started to do a collaboration brew series to showcase the brewers and some unique and innovative ingredients.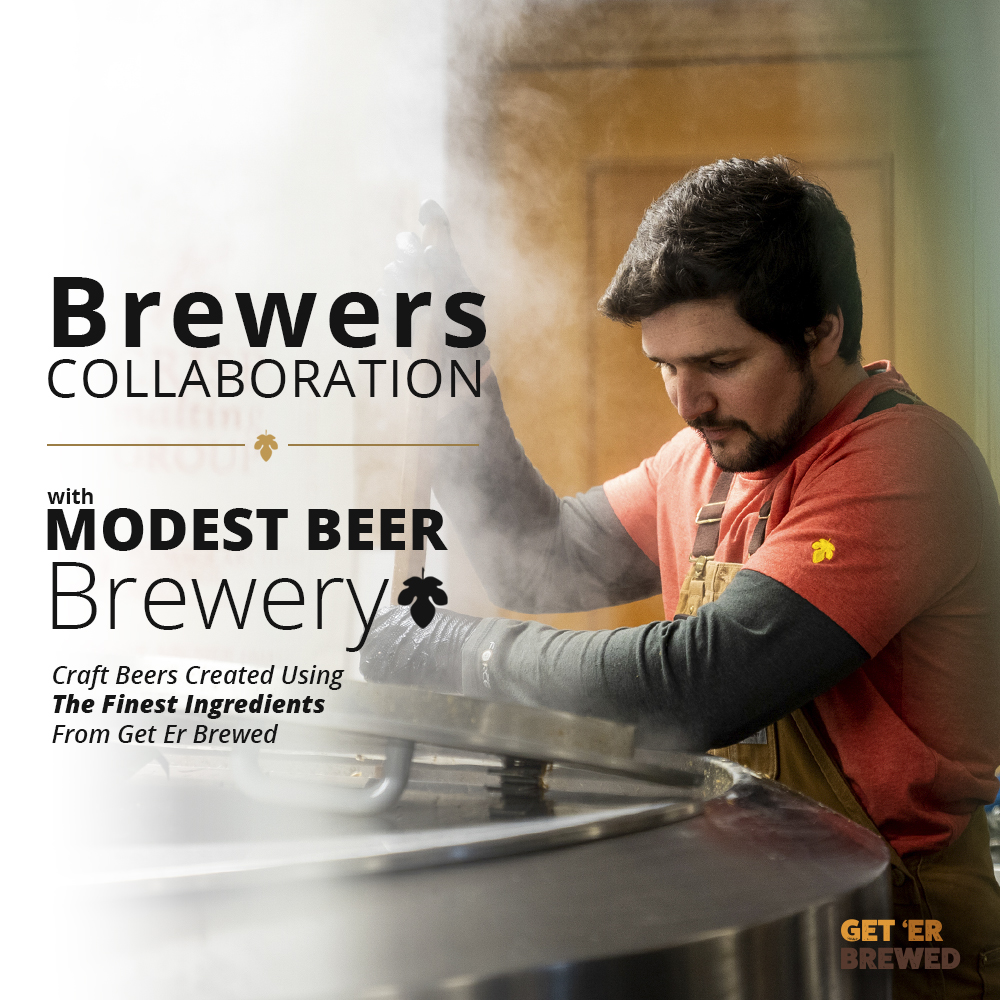 The first brewery we have worked with on this new series is Modest Beer in Hollywood, County Down. Chris worked with us from the start of his brewing journey progressing from home brewer to commercial brewer and we helped him build his brewery with a Brewiks Microbrewery setup.

We've been proud of what Chris has achieved in a short period of time and are very grateful he put his trust in us to supply him with his brewery equipment and that he continues to see value in our relationship with ongoing ingredient supply. This brewery has an exciting potential and we look forward to licensing law changes in Northern Ireland as we can see the full potential exposed.

So what was the focus of this collaboration?
Chris would be a hop forward brewery brewing tasty pale ales with an emphasise on the hops, so we have chosen to showcase a relatively new advanced hop product called Incognito and a brand new Australian hop called Eclipse, not forgetting our first commercial trial of the enzyme Aromazyme from Lallemand which has been used to enhance the hops. We have also used the finest malt from Crisp Maltings in this brew trying out heritage malt Plumage Archer and naked malted oats which has allowed the hops to shine through with a sweet and smooth malt finish

Chris is living very much up to the name of the brewery… Modest and Humble about his ability and what he has achieved. The brewery is producing Modest volumes in terms of output but the work ethic is dedicated and focused, you can see he has a passion for creating the best beer he can.

The Ingredients used in the Collaboration brew

What is Incognito?
Incognito is an advanced hop product used purely in the whirlpool , we used Citra Incognito and the flowable hop oils have certainly produced some extra packaged volumes mitigating losses in the whirlpool usually found with pellets

Tell us about Eclipse Hops?
We had the trip of a lifetime to Australia in March 2019 thanks to our distribution partners Simply Hops & the Barth Haas Group when we visited the Hop Products Australia farms in Victoria and Hobart, this hop was known as HPA-016 then and it got us really excited and it stood out as a future rockstar of the hop world. It is packed full of juicy sweet mandarin flavours with citrus peel and some pine. The hop has a sweet and delicate hop flavour that is genuinely unique in the modern offering of hop supplies. We feel this is an up and coming star in the hop world.
Geterbrewed where lucky to be able to be one of the first to launch this hop and have noticed the very limited supply we received is almost sold out already which again in an indication of just how well its being received by brewers trying it.

Tell us about Plumage Archer?
A heritage malt brought back to commercial release by Crisp Maltings , a malt developed by Dr ES Beaven its the first ever cross breed malt and comes from great stock as its one of the Grandparents to the heirloom variety that is Maris Otter, you will experience sweet malty bready smooth flavours.

Tell us about Aromazyme?
A simple addition of this enzyme in the fermenter will hydrolyse glycosidic bonds present in the hops, this process will in turn increase the complexity of the hop aroma and flavour in beer.
We highly recommend you try this beer, its available via Modest Beers Distributor Nelson Sauvin
Checkout the Youtube Teaser Video of the brew
If your a local Irish Brewery interested in doing a collaboration brew with Geterbrewed we would love you to get in touch