We have made significant investment in preparing for Brexit, the aim was to put the business in a place that would allow it to continue to supply brewing ingredients and equipment as we did before.
The EU & UK governments leaving the negotiation of the deal to the last minute meant that we had to plan for a dooms day scenario which required huge investment to hold brewing ingredients stock in a UK & a European warehouse ensuring that we had enough stock to last a few months while we worked out what way the new laws and rules would work.
We took the step of setting up an EU registered company and took on a new warehouse space in Dundalk. The finer points of the deal still haven't fully been worked through but we have both locations operational and we are selling brewing ingredients across the EU.

Geterbrewed being based in Northern Ireland and part of the United Kingdom now in fact puts us in a very unique position because of the Northern Ireland Protocol. Effectively it seems we may have the best of both worlds but the level of bureaucracy and red tape paperwork has placed an addition workload on us. So we have had to recruit more staff and re-divert staff from other roles to ensure we have the correct resources to manage this new way of working. The government did set up a goods movement scheme for Northern Ireland called the Traders Support Service to help businesses but we went a step further and recruited a full time customs officer to ensure we are fulfilling our legal obligations and ensuring most importantly we show our customers we value them and want to keep their business.

There is no changes in how we move goods from NI to GB although when we bring goods from GB into NI they are split into two categories "at risk" and "not at risk", so if the brewing ingredients are to remain within the UK then no tariffs are paid but if we intend to sell them into the EU then we will have to pay EU tariffs. The key point to note here is we can still trade, yes our company will have to make declarations and pay some tariffs but we can trade as we did prior to Brexit.
We have built a new purpose made goods in area/office facility and every delivery we receive is booked in with full traceability, at this stage all goods are labelled as GB or EU goods to allow us to identify when goods need cleared. We have upgraded all of our computer systems and installed new servers both physical and cloud based to deal with all the extra paperwork, when all details are available we will seek to automate a lot of this with computer programs. 

Our key distribution partners are global companies with facilities in multiple countries so we can choose when ordering if its best to bring goods in from UK , EU , Rest of world, this means if we manage the flow of ordering correctly for each region we can minimise the impact of tariffs

Delivery companies have had some difficulties, our small parcel haulier DPD announced they wouldn't be shipping into Europe but we had been working on a new premium shipping option with DHL so we launched it to allow us to service our European customers, we have set the DHL shipping solution up to be able to do full digital customs clearance. We recently recruited a full time php coder to write code to improve the user experience on our website, he has been able to integrate a new World Wide Shipping solution for Geterbrewed. We can now offer express shipping solutions serving over 220 countries. 

Our new DHL delivery service cost is volumetric based on weight and size , they have multiple different service levels but we want to highlight their premium shipping options, if you need a parcel next day we now have World-wide options for that service.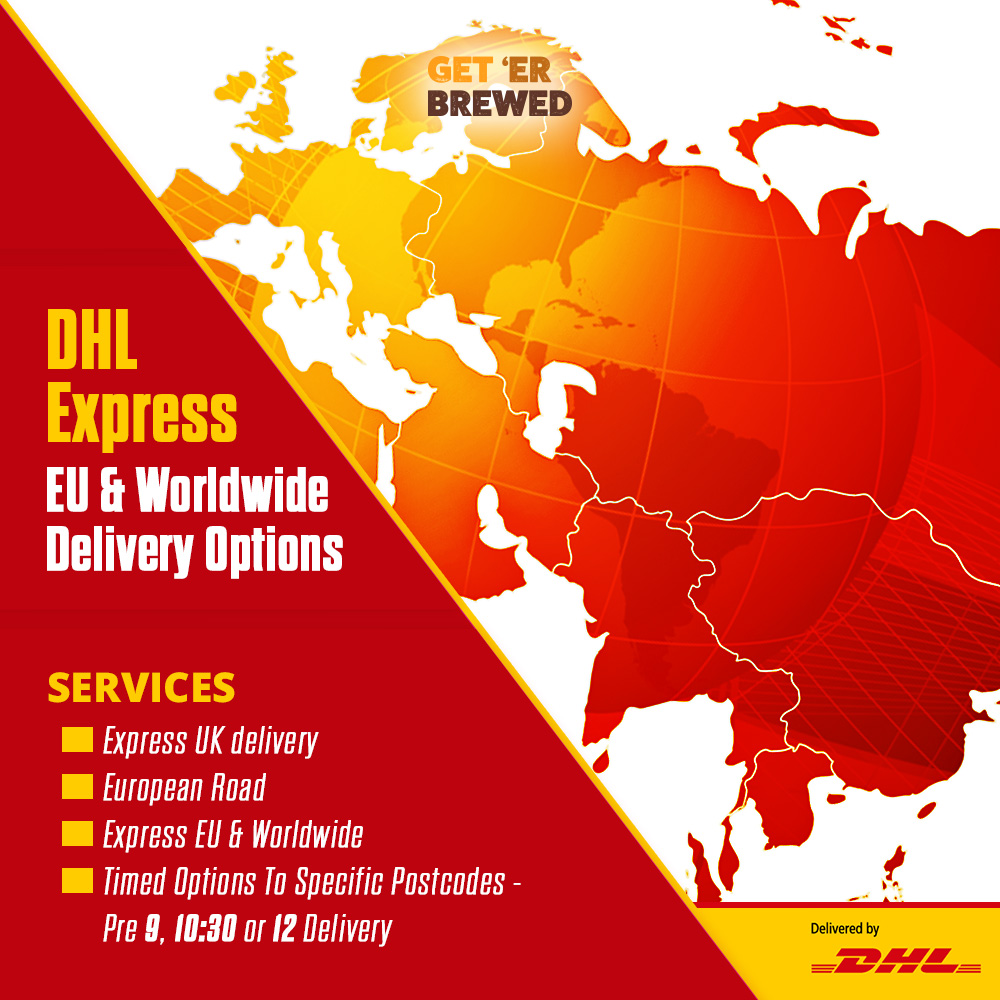 When loading the Dundalk warehouse we noticed it difficult to get full load transport and also have noticed that the pallet network has slowed down, we are able to ship full loads and pallets via our courier but the requirement for all the extra paperwork has slowed that process a little. Currently trade within Ireland hasn't been affected but going to UK the pallet delivery times is a little slower and pallets moving within the EU being hit with a few days delays. 

We have experienced some companies refusing to ship personal items we have bought online and found that frustrating so we wanted to provide a service to our customers that would see things managed in these times with the aim of actually improving speed and service level. Never before have we registered with so many government bodies nor have we attended so many zoom meetings, presentations , not to mention the reading of books on Ecoterms, rules of origin & how to classify goods via commodity codes.
It's been a really challenging time but we want to reiterate we are prepared and we can supply you. We value our customers and love what we do so we will navigate through this. If you need any assistance or further explaination on how we are set up for Brexit don't hesitate to get in touch.

Geterbrewed see this an opportunity for growth and we look forward to welcoming all our new customers and not letting this affect how we deal with our valued existing customers no matter where you live or indeed if you supported Brexit or not.
We're just happy to have managed to keep trading thought it all and look forward to the opportunities this brings us. 

Homebrewers

Commercial Breweries 
https://www.geterbrewed.com/micro-brewery/