From the off I'll highlight this event is more based towards the brewing trade, but I did receive some exciting news at the event from our suppliers. The Event changed venue this year and it was in the exhibition centre in Liverpool so we popped over for the day to check it out , the SIBA regional gold medal winners progress to the finals at BeerX so some work mixed with a little beer tasting, its all good yeahhh!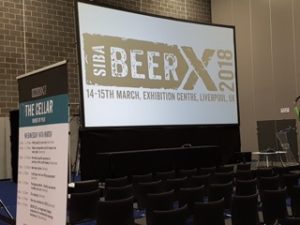 A nice spacious arena packed with stands from all the big names in the brewing industry, I caught some interesting presentations and had some exciting conversations with not only with brewers but with the brewing suppliers.
Major news to report from Crisp Malt, I had a chat with some of the top team and they are very excited about the successful distribution of Crisp Malt throughout Ireland by Geterbrewed, we discussed how many Irish breweries are reporting higher extraction rates, more consistent crush plus a better flavour from the wort. Major growth reported in this area.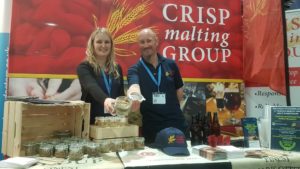 Crisp Malt have installed a new bagging line and are nearing completion of a new coloured maltings, its a very exciting time to be working with these guys, they already have a large catalogue of products but this new multi million pound investment will be a game changer. The new malt bags have been released and the quick release and anti static packaging is proving to be a hit!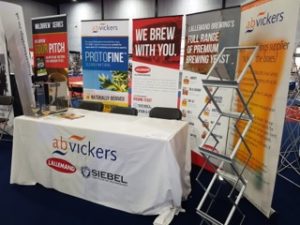 Checked in with the team at AB Vickers and Lallemand and had a good brief on the new products. Protafine is a new Vegan friendly clarification product that we will be introducing to Irish Breweries immediately. Robert from Lallemand is keen to launch the homebrew sachets of the incredible freeze dried bacteria 'Wildbrew Sourpitch' I've used this recently in a blueberry kettle sour and I was really impressed, it is due for imminent release.
I enjoyed some impressive beers on the lallemand stand, an NEIPA from Northern Monk Brewery (Lalbrew New England Yeast) & a Sour from Magic Rock Brewery (Wildbrew Sourpitch). Geterbrewed distribute the full lallemand range across Ireland, contact us if you want samples of the new yeast strains.
We also picked up some new ideas and will update you soon on new innovative brewing products coming to the homebrew and microbrewery market.
Enjoy if your attending & hope the guys exhibiting have a great show
The GEB Crew