I've recently taken a  keen interest in the Barrel ageing of beers, I've started to appreciate the complexity of some barrel aged beers, we even dabbled at it ourselves with our very own Christmas Special beer at our sister brewery Hillstown brewery. We took 29 year old whiskey barrels and aged a hoppy red ale with festive spices for 9 months and bottled it as a special release, no coincidence that its been one of our highest rated beers to date
Dabbling is one thing but understanding the science and having an impressive selection of barrel aged beers is quite another. I enjoy a beer subscription from Mikkeller and they have an amazing range of barrel aged beers , their spontaneous series is amazing!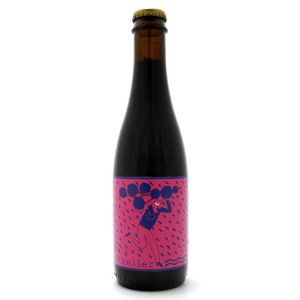 I've been inspired to create some beautiful barrel aged beers so when I seen the opportunity to learn a little more I attended….
The Brewers Journal who organised the Brewers Lectures in the Convention Centre In Dublin and had a really enjoyable experience and noted a fantastic talk by Dr Gearoid Cahill (Director of Brewing Science at Alltech) on the barrel aging of beer, his experience in this field is indepth and he easily simplified the key points so that even I could follow.
He's 23 years in the industry and joked ' I bought a barrel at the car boot sale , I'm going to make a great beer'  and then was subsequently responsible for aging of 70000 barrels of beer a year
The Elements of Barrel Ageing of Beer
Barrel Selection & Conditions
BIG Rules
What happens in the barrels?
Storage
Filling & Emptying 'Disgorging'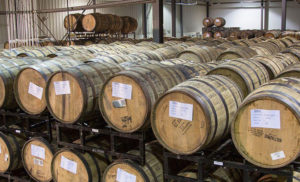 What Barrel Ageing Is & Why People Enjoy?
There is generally three types of barrels used, Spirit, Wine and Beer…. as for why people enjoy it, it has to be the complexity in my humble opinion
Bourbon Barrels – The bourbon is aged at a 65% volume so nothing grows at all in it and Bourbon is aged for 4 years so it is excellent for aging beer as long as the barrel is freshly emptied. The negative factor with it drying out is that it shrinks and you have the possibility of leakage and as Dr Cahill said ' Spilling Beer Is A Sin'
Wine Barrels – Will sour quickly within as little as a week
Beer Barrels – are vulnerable as soon as they are emptied
The key to success is Fresh Barrels
So how do you rejuvenate the barrels if freshness is key?
Sterlise the barrels
Steam Clean them for 10 minutes
Recondition them – say by adding bourbon back into them
The make up of a barrel?
Mainly around the 200 litre volume
Inner Surface area in 2m2
The Stave Saturation depth is 0.4cm
Spirit Hold Up Volume is 6 litres
The Char penetrates 2mm into the wood, Spirit goes in 4mm
Filling & Emptying
It's a manual operation that can't be automated. To store the barrels he recommended they are kept cold. To fill they use a filling lance that has two tubes, one for beer and one for c02
Purge Barrel with c02
Fill Beer from the bottom
Hammer bung
Cold Condition for 6 weeks at 4 degrees
Take Out Beer, Flood headspace as emptying
What does the barrel give us?
Spirit
Wood, vanillons
Colour , Haze and Alcohol
Oxygen reactions
Barrel aging can be carried out in as little as 2 weeks to 2 years. Add an airlock if you think its going to ferment in the barrel. Store Cold although ambient temperature works well for sour beers. Needs to go through a filter to remove charing lumps
Points to Consider before Barrel Aging Beer
Premium/ Super premium
Generally Higher Alcohol
Complex Flavours
Not Easy to Scale Up