A brewpub, bar and restaurant ….
A new opening in recent times in the Dublin area, a sideline for O'Hara's Brewery (Carlow Brewing Company) the beautiful location is based at Custom House Quay, now if you didn't look at the website and know what you are walking into then you are in for a treat.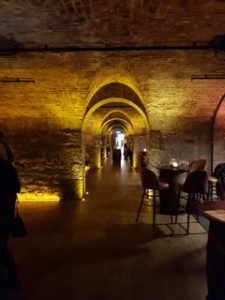 We were staying in the city and had some guests with us from Lallemand yeast and Simply Hops, we casually strolled down the Quay enjoying the buzz of a busy Thursday evening and it was a welcome sight to see the bar packed, we went downstairs to eat in what would be best described as a 'cellar cave', intimate setting with low lights and plenty of ambience, the low light strips along the walls highlight the architecture beautifully. If the upper area is modern the contrast to a more heritage feel is downstairs
Walking to our table we bumped into Mickey the brewer and had a short chat, he briefly explained how the place is laid out and wished us an enjoyable evening. The service was top class to be fair to the staff, we had water served on sitting, beer and food menus delivered and an explanation of what house beers were on at that time. From IPA's to Sours it was a decent house selection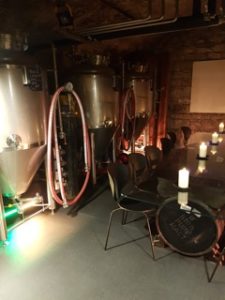 The Menu had an excellent selection and we went for beers to pair with the starters and wine for mains. The cheese board and Irish Coffees left us feeling well catered for.
One of the most beautiful settings for a meal I've eaten in recently and if the staff get to know the details of the 200+ beers on offer then you have a real winning combination for tourists visiting the city