Everyone wants the latest hop harvest, if your striving to achieve that amazing fresh hop aroma in a dry hopped IPA that maybe the case but on occasion sometimes the latest harvest might not be the best option…
Growing and harvesting conditions can affect the final outcome of the quality of the hops so the latest harvest may have been a poor yielding year and the previous harvest maybe the better option. The previous harvest will only be a better option however if the hops have been stored correctly.
So how do you store hops correctly and how long will they last?
The question of how long hops last for will of course raise a few more hop related questions and there is many variables, the main variables to be aware of are;
The above key points are highly relevant but will affect each variety slightly differently.
Geterbrewed have invested in cold storage to ensure all our hops are stored below 4 degrees. Correct cold chain storage from the hop farm to our cold storage warehouse is time consuming to do correctly so the latest harvest may take a little longer to arrive but its good to know the reason is we want you to receive simply the best hops in the brewing industry.
Sending hops in a refrigerated container is also much more expensive but again it preserves freshness. We want to provide the finest hops to our craft brewers and home brewers so we have set a clear focus on handling the hops correctly.
Geterbrewed recommend that when you receive your hops you store them in a fridge below 5 degrees. Hops exposed to high temperatures will degrade fast resulting in substantial losses of alpha- and beta-acids, the higher the temperature the more the hops will degrade with degradation doubling every 15 degrees.
Hops exposed to UV light will also degrade quickly and lose their flavour and aroma and can actually generate off flavours in your beer. Geterbrewed have invested in premium quality mylar foil packets to package the smaller quantities of hops for home brewers. We buy container loads of hops and they arrive in pallets made up of boxes of hops in 5kg, 10kg and 20kg foil bags, for craft brewers we ship in these volumes but for home brewers we open one of these pack sizes and breakdown into smaller volumes usually 50g, 100g, 225g, 450g and 1kg
When we have visited hop farmers during harvest we have noted when they cut the bottom of the bines they have a maximum time limit of 2 hours to get the hops picked and into the processing plant as the sunlight will degrade the hops. The foil packaging we use prevents UV rays, vapours and moisture getting into the hop package so they are preserved for ultimate freshness, we also nitrogen flush and vac seal the foil packages.
Oxidised hops aren't pleasant and can cause cheesy off flavours in your beer, we mitigate this with our handling and packaging and storage methods. Hop Flower or Hop Leaf degrade and oxidise much quicker than hop pellets.
We prevent oxygen pick up with the packaging that we use, a high micron foil package that is nitrogen flushed and vacuum sealed ensures the hops have the best packaging for storage, combined with cold storage means we can confidently put a 3 year shelf life on our hops, we can stand over these hops to guarantee freshness for this period of time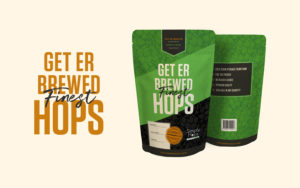 We have recently ordered new foil packaging that has a resealable ziplock, these new hop packs will start to roll out at the end of the month, ideally if your resealing it should be carried out with a vac sealer but if you squeeze out the air and use the ziplock and place back into cold storage this would help preserve the hops and slow down the ageing process.
We are passionate about providing the best hops in the brewing industry, this is only achieved by handling and storing the hops correctly, we hope you appreciate the time and effort this takes but most of all we hope you notice a marked difference in the quality of our hops.