Brewing systems reviewed by Geterbrewed. The team assembled to brew on 4 of the all-in-one brewing systems we sell here at Geterbrewed. Uniquely they all picked a different recipe and brewed different beers, each on a different system. To make the parameters even better, we had all different levels of brewing ability.
1. The Speidel Braumeister
German homebrew engineering at its finest, beautifully manufactured brewing equipment. We reviewed the Speidel Braumeister 20litre Plus with the built-in chilling jacket paired with a SS Conical fermenter from Speidel and a Lindr Chiller.
Check out the unboxing video of this system HERE.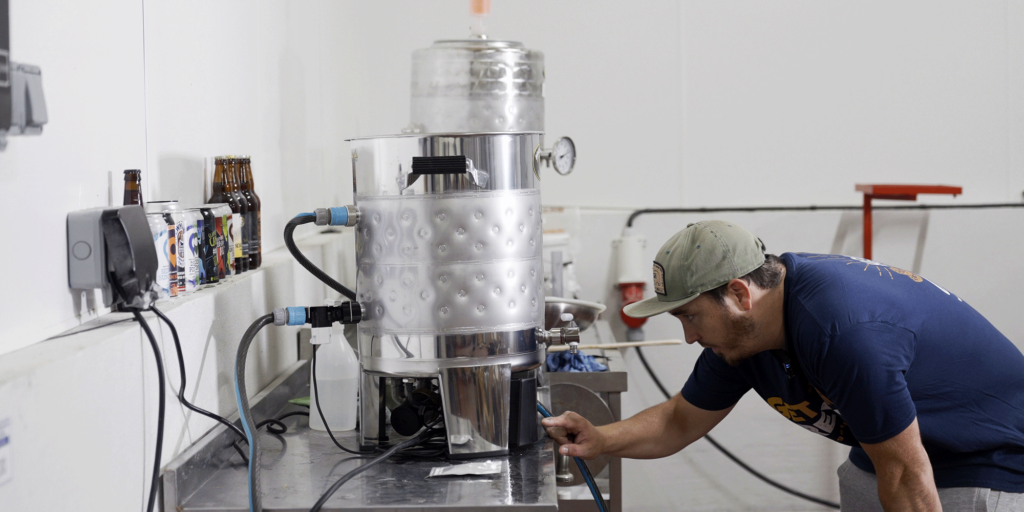 2. The Grainfather
Has what would be considered a cult following, and Grainfather has seen huge success in the homebrew community. The brand is strong and offers a layer of connectivity to your smartphone. We used the iconic Grainfather G30 paired with the counter flow chiller and the GF30 Conical Fermenter.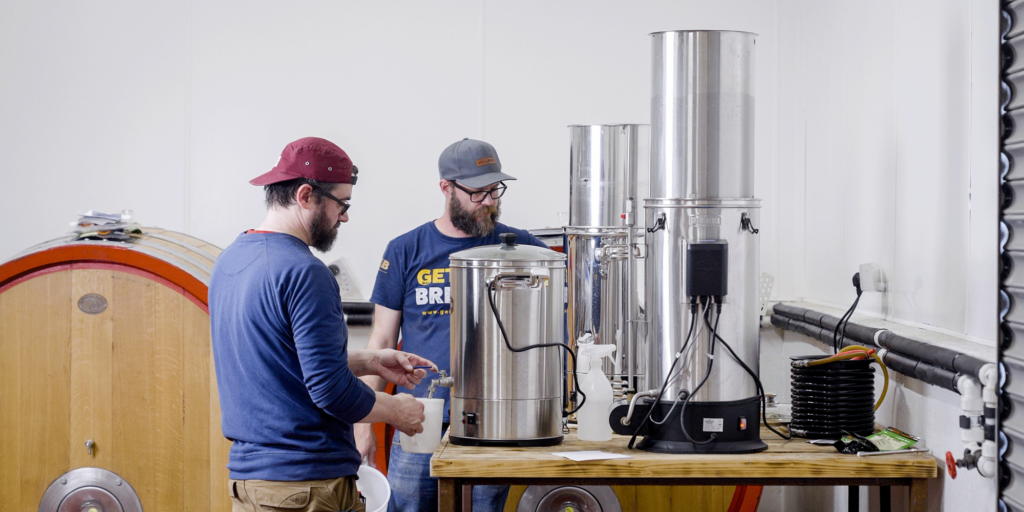 3. The Beacon Brewster
Designed & launched by Brewolution in Denmark. The Stainless steel filter addition at the bottom has been a huge improvement to the current model as it reduces sediment greatly. The pump will get the wort into the fermenter in as little as 3 minutes. We used the Beacon Brewster 40 and a Fermzilla 30-litre all-rounder to ferment under pressure. We also used the Ferminator to maintain temperature.
Check a video of this system HERE.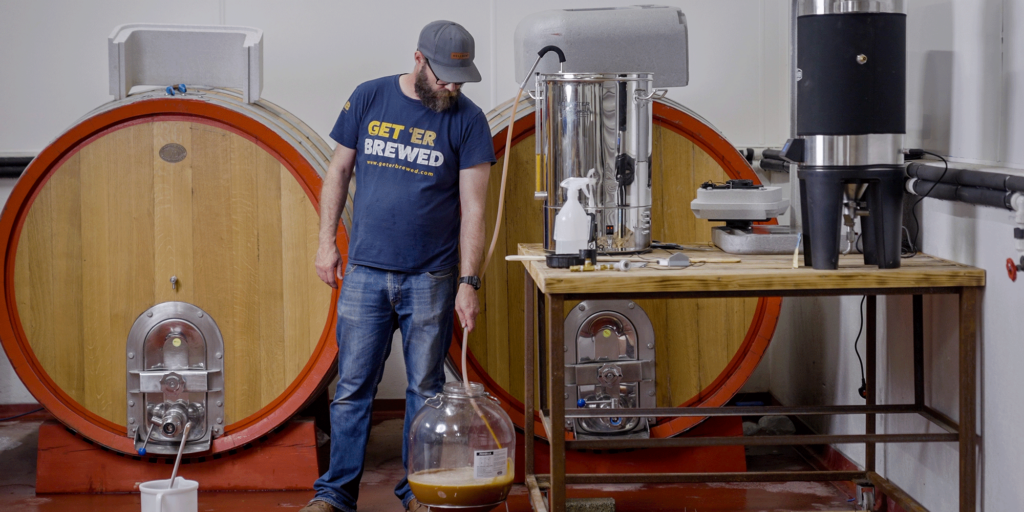 4. The Brew Monk
Designed and launched by Brouwland in Belgium. The Brew Monk 30L has been hugely popular at Geterbrewed selling thousands of these units and seeing lots of people start their all-grain brewing journey with this system. We used the Stainless Conical Fermenter from Brewmonk and a Ferminator to regulate temperature.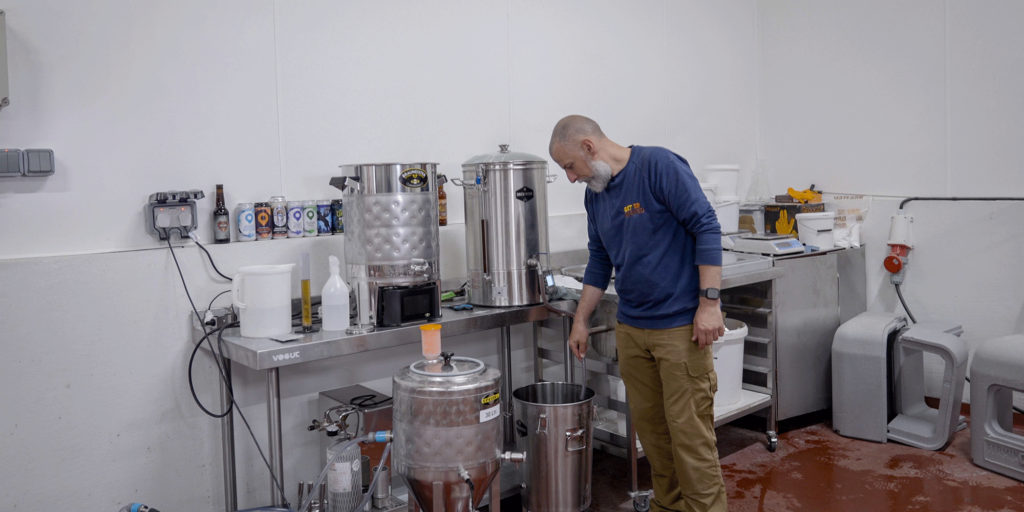 The parameters saw us use four different recipes with four different brewers with four different levels of experience. A combined team effort, yet each member focuses on their own recipe and brewing system. Geterbrewed distributes & sells online a wide range of All In One Brewing Systems, and we have great relationships with all the suppliers. We are aware that certain features will appeal more to different people and everyone will have their own favourite. The aim of this feature and the video is to allow you to see each of them in action so you can make your own purchase.
The Recipe we trialled in the brewing systems reviewed.
We decided to make four very different beers. Each with unique flavours, and using interesting ingredients. That's one of the great things about homebrewing. You can make never seen before brews, and discover new tastes.
Heritage IPA – Dillon was brewing on the Spiedel Braumeister using an old IPA recipe. He choose to showcase the heritage malt Chevallier from Crisp Malt and used a traditional UK hop and yeast strain and a little sugar to keep the recipe consistent with the old recipe.
Japanese Rice Lager – Michael brewed on the Grainfather G30. He went with a Crisp and crushable Rice Lager recipe using Sorachi Ace hops. The recipe used a decent whirlpool hop addition, making it beautifully aromatic.
Rooibos Tea Lager – Cuan brewed on the Beacon Brewster, making a unique lager, fermented under pressure with a tea addition that brought a beautiful red hue, unique aroma, and taste, almost honey-like.
Dark Czech Lager – Jan brewed on the Brewmonk a dark Czech Lager. He used Dingemans malt, and the de-husked roasted barley really is impressive in this recipe.
We will be adding all these recipe kits to our website soon, so keep an eye out for them. In the mean time, we have the ingrediant list below, if you want to try make these unique beers.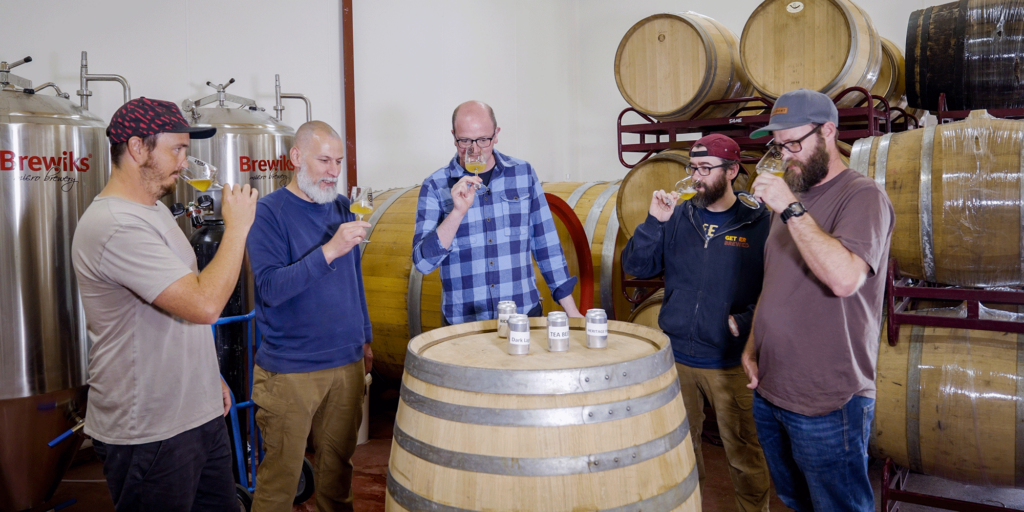 Heritage IPA
5kg Crisp Heritage Chevallier Ale Malt
600g Dextrose
325g Crisp Flaked Torrefied Maize
Mash: 68'C for 60min
Boil: 60min
100g Fuggles @ 60min
100g East Ket Goldings @ 0min
Yeast: AEB – GEB Juicy – New England – 18'C
OG: 1.050
Japanese Rice Lager – 25L
3.50kg Dingeman Pilson MD
1.10kg Flaked Rice
250g Rice Hulls
Mash: 65'C for 60min / Mash out: 75'C for 10min
Boil: 60min
10g Sorachi Ace @ 60min
100g Sorachi Ace @ Whirlpool
Yeast: Kveik M12 – 28'C
OG: 1.044 / FG: 1.006
ABV: 4.97%
Rooibos Tea Lager – 25L
4kg Dingeman Pilson MD
400g Dingeman Cara 20
Mash: 68'C for 60min
Boil: 60min
15g Southern Passion @ 60min (you can sub with Ella if needed)
125g Southern Passion / 350g Rooibos Tea – Whirlpool
Yeast: GEB-AEB Fermolager Crisp – 14'C (Raise to 20'C over a few days if Pressure Fermenting)
OG: 1.040/ FG: 1.005
ABV: 4.6%
Dark Czech Lager – 25L
2.3kg Dingeman Pilson MD
2kg Dingeman Munich 15 MD
800g Dingeman Cara 120 MD
220g Dingemans Pealed Roasted Barley MD
Mash: 68'C for 90min
Boil: 90min
35g Saaz @ 70min
30g Saaz @ 60min
30g Saaz @ 5min
Yeast: Lallemand Voss Kveik – 30'C
OG: 1.055/ FG: 1.014
ABV: 5.4%
Check out the brewing systems reviewed on our youtube channel : https://youtu.be/szqCVY083n8
The video gives you an honest-to-goodness review of how newcomers get on with an all-in-one brewing system. Let us know what you think.