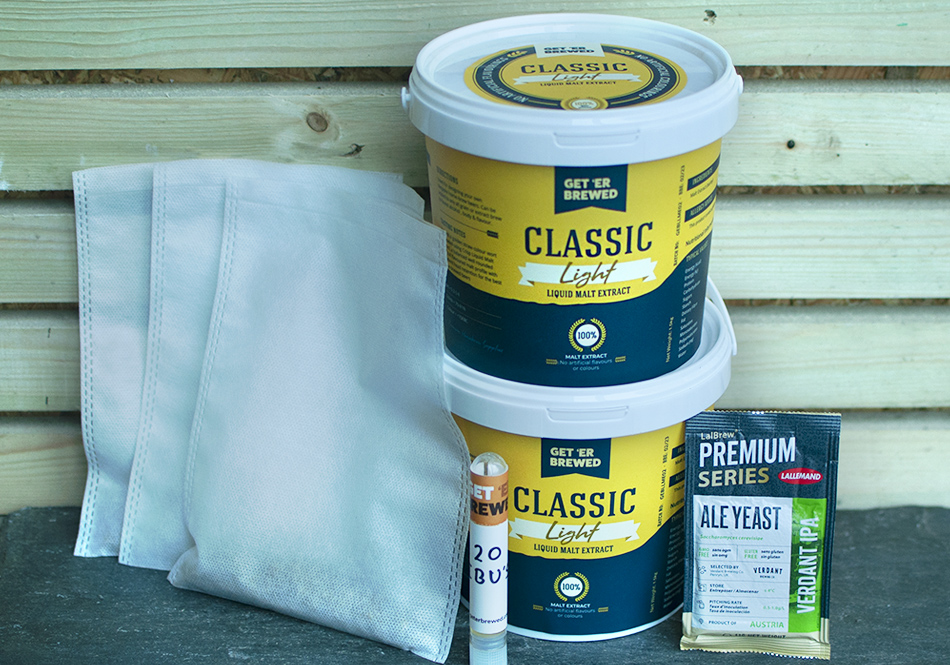 Geterbrewed have been driven to push the boundaries of what can be achieved in homebrewing, we have been championing a homebrew revolution and achieved results by providing only the best homebrewing equipment and the freshest ingredients always looking for innovative technology and new products to allow homebrewers to create impressive brews that makes them return to us time and time again for their homebrew beer kits.
So…the basic beer kit has been a challenge to educate homebrewers on what is possible. We have designed our own range of beer kits using the finest liquid malt extract, isomerised hop extract, brewers' strains of yeasts and innovative hop tea bag technology.
The premium quality Liquid malt that provides such a pure malt flavour, plus its an all malt beer kit
Isomerised Hop Extract allows us to fine turn the bitterness level of the beer kit
The Brewers Strains of yeast, ultra premium yeast chosen specifically for the style of beer
Hop Tea Bag Technology – The freshest hop pellets in innovative tea bags that allow maximum diffusion of the hop flavour and aroma. Plus we get to use hop varieties not normally used in beer kits
Geterbrewed are pleased to announce some new beer kits being added to the experimental beer kit range:
---
1. Kviek Beer Kit with Eclipse dry hop
Ferment at High temperatures with super quick turnaround times, the Premium Lallemand Voss Kviek yeast leaves a subtle orange flavour in the finished beer and the dry hop of eclipse leaves a sweet juicy mandarina flavour and aroma for this Kviek Beer Kit.
Kviek Beer Kit Contains:
---
2. Philly Sour Beer Kit with Nelson Sauvin Dry Hop
For our Philly Sour Beer Kit, a special yeast (Lachancea SPP) is used to produce a sour beer with refreshing acidity and notes of stone fruit, the yeast produces moderate amounts of lactic acid during primary fermentation to sour the beer.
Philly Sour Beer Kit Contains:
---
3. Lager Beer Kit – Ferments at Ale Temperatures
A Lager Beer Kit that using the innovative yeast strain from Mangrove jacks that allows you to ferment a lager at Ale Temperature. Dry Hopped with the beautiful styrian goldings hops.
Lager Beer Kit Contains:
---
4. Lupomax Citra beer kit
Lupomax Citra IPA Beer Kit showcasing the brand new enhanced hop pellets paired with the Verdant IPA yeast to allow that beautiful apricot flavour to shine through.
Lupomax Citra Beer kit Contains:
Checkout the Experimental Homebrew Beer Kits from Geterbrewed in the links below:
https://www.geterbrewed.com/geb-experimental-beer-kit-series/
https://www.geterbrewed.ie/geb-experimental-beer-kit-series/
---