Simply Hops Guest Post from Daniel Christmas & Emily Swann
Getting Great Beer to the People
At Simply Hops we have been thinking a lot recently about what needs to be upheld and protected within craft brewing, not only for it to continue to grow and flourish, but to an extent for it to transition to its next phase of life? We love craft brewing and we know the genie is out of the bottle now, hopefully meaning craft will be around forever. So, we have to ask these questions to make sure that as much as possible, our own business reflects the ideals of craft and supports it in to the future.
In our opinion one of the cornerstones of craft brewing is localisation; A breweries ability to bring beer styles from all over the world and make it available to the local community. It plays a massive part in the building of a brewery's sales from its inception, continues to be part of a brand's customer foundation as it grows beyond its own postcode. It is an essential part of the culture and tone of the craft community.
People buy from people. It is said many times, but in our experience it holds truer than ever in the craft brewing world. At Simply Hops we are making sure that across the UK, Europe and Scandinavia, we have people on the ground working with local heroes to help get the best understanding of customers' needs. We've recently started working with Get Er Brewed in Ireland for exactly this reason. In Ireland more than anywhere, craft brewers are struggling with the ability to build a strong local base. Looking at the Irish Craft market actually gives us a really good insight as to why localisation is so important.
Reliable numbers are never easy to get hold of in these things. In the US, craft beer is often said to make up around 15 – 16% of the market. In the UK it's been estimated at around 5% but still growing. In the rest of Europe, it can vary from country to country, but the overall picture is towards growth and the taking of a larger share of the market. In the whole of Ireland however, estimates are that craft beer accounts for around 3% of the total market and growth is slow. Nonetheless, when you speak to the people involved in the independent craft brewing industry in Ireland, you still get all of the passion and dedication that you get elsewhere. They see themselves as part of a bigger community and work in the same collaborative way that is pretty much expected among craft brewers. Their beer is just as thoughtfully crafted and offers the same quality and excitement to their customers. So why is the market not responding in the same way as many other places?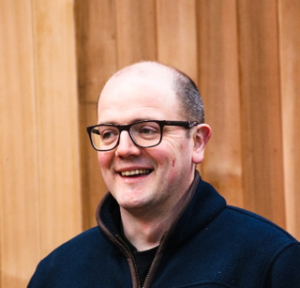 Jonathan and Deborah Mitchell run Get Er Brewed, based in Randalstown in the North of Ireland. They have grown from supplying home-brew and wine kits initially, to now being a major distributor to the craft breweries in Ireland. As well as Simply Hops they work with Crisp Malt and Lallemand Yeasts delivering to craft brewers across Ireland. They have been concentrating recently on making sure that they are able to deliver the best quality ingredients to the customers they deal with. But they are both ambitious and the lack of growth in the market is seen as equally unnecessary and frustrating. Jonathan says "I love Irish craft brewing. The brewers I meet on a daily basis are really killing it when it comes to passion, quality and innovation. There are some things we need to catch-up on here in Ireland though, that will see the craft beer market bloom. When I go to the mainland UK and throughout Europe, I see breweries bringing in locals to their taprooms and bars. The locals love having something that is new, exciting and most importantly "theirs," right on their doorstep. They are able to interact with the brewers and staff, and in a way that they never can with large scale breweries. It creates both passion and loyalty in the consumer, making them the perfect ambassador for the breweries as they spread the craft word to their friends. It also gives the brewery a financial boost as they are able to shift some of their volume through a short supply chain and protect their margin." Deborah adds, "It's all about real interactions no matter who your customer is. We have built our business on face to face communication. We have become our own brand that naturally incorporates all of the values we uphold in our business. The same holds true for the breweries." Jonathan continues, "Licensing makes running something like a tap-room or pop-up event very time consuming or expensive. The costs of the licenses in Ireland can be eye watering, which makes setting up a tap room a non-starter. Even for pop up events, each time you have to apply to the courts to transfer licenses from already licenced premises. It makes doing these kinds of things difficult and certainly means that anything spontaneous is out of the question. The result is that the brewers can lose a very powerful marketing tool. With so much passion an energy in Irish craft brewing you can almost feel the market straining against its restraints. It's ready to go!"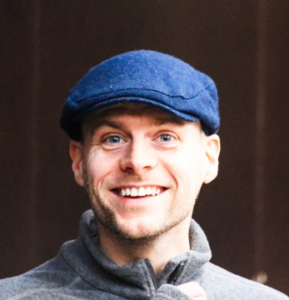 Mal McKay is energetic and smiles easily. It gives away his love of what he does. He also sees his local market as key to his future success. He has just finished building his new brewery on his family's farm (former home of the famous poet Seamus Heaney) and is about to begin brewing his craft beers sold under the Heaney brand. As soon as he starts speaking to us, it's clear that he plans to overcome any obstacles in his way. His opening sentence is possibly tongue in cheek, but you get the sense he means it. "Anybody that hasn't heard of us yet soon will. This has all come about from a love of beer, and me and friends homebrewing to make clones of the beers we love. It just went a bit too far one night when I said to my wife I wanted to put a brewery in at the farm. "Wise up" she said, which I did for a while. Then I went a bit mental and decided to do it anyway. To begin with we're going to focus on some good everyday, everyman beers. I think a good brewery needs to be able to offer a good core range. I have good some great ideas for some big recipes down the line though. The biggest threat to me here is getting the local consumer to understand that they should be buying proper beer. We should be supporting local brewers whenever possible and that means drinkers, the publicans, the staff in the pubs, the hotels, the restaurants and the independent off-sales. They keep saying there's no demand for the craft beer. But how can there be a demand for it in your pub if you don't have it in your pub. I guarantee if you put it in your pub, people will buy it."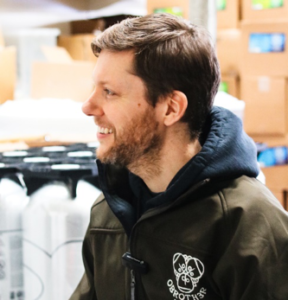 O Brother Brewing in Kilcoole In the South of Ireland, is busy. The radio is loud, the keg filler is being operated at full-tilt and space is very much at a premium. It's a similar scene that you get from many craft breweries. Fast paced, hard work designed to turn out premium beer. Barry O'Neill, one of the founding brothers (there are three) nonetheless finds time to speak to us about his view of the future. "We set up in the back-end of 2014. Just myself and my two Bro's. We used to work part time in our Uncle' Off-licence. We got a reputation for turning up to parties with weird and exotic beers from all over the place and it started a love of beer. We became passionate home brewers then outgrew our dad's garage so made the leap from very diverse careers to brewers. We spent about 3 years getting the brewery together before we eventually got going here in Kilcoole. We wanted to brew what we feel is lacking in the Irish market, which is big hoppy beers in the American style. We wanted to put Irish beers on the map. In 2011 when we first started looking at this there were very few breweries that were not playing it safe. Now though, there are loads of Irish brewers doing really great things. With regards to the future we are looking at the growth of the market, or rather the lack of it. I think it's going to be hard yards to keep making in-roads in the market now. I feel this especially when we hear our consumers saying "I got the new craft beer from brewery X" and I know that that particular brewery brews our entire annual production 8 times every day. We have to educate the consumer about the difference between a brewery like this where we have 4 people grinding it out every day because they love what they do. Compared to a brewery that spends more on one advertising campaign than we do in a year. It makes it hard for us to get in to the bars and pubs and to get taps for the people to try out beer. If we can get more locals involved with us, it helps us get that message out"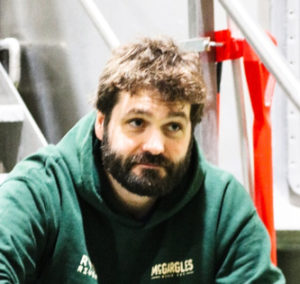 Finally, we spoke to Bill Laukitis, Head Brewer at Rye River in Kildare just outside of Dublin. Rye River could not be described as a small brewery by any means, with an output that far exceeds that of many of the other breweries we spoke to. They are just opening a new taproom and have excellent distribution through a number of sales channels across different brands. You would expect then that Bill's view point might be slightly different. But he is clearly an independent brewer who has the love of craft within him. He speaks proudly of "his" Irish brewhouse and the beer they make. "This is the first brewhouse manufactured in Ireland for over 100 years. We wanted to bring this type of engineering back to Ireland so we linked up with a local engineering company and the kit is working pretty well. We're on course to brew 28 times on the 25HL system this week. We're pretty proud of the beers we make here. 25 core beers and 30 unique special recipe beers last year. It keeps us very busy." At this point Bill does something that many craft brewers will do when you ask them to talk openly about beer and begins to talk in-depth about the technical aspects of the water he uses (among other things). It's great to watch a man so full of love for what he does. We suspect that at this point, Bill would love nothing better than to be teaching the world to brew craft. We do eventually get him back on track though. "Craft brewing is a community and back where I grew up in the states it's a lot easier for a brewery to open up its doors and let everybody in. Somewhere to share their beers and get to know each other. I think making it easier for breweries to do that would help a lot in the future. It would also help with tourism. A lot of people visit Ireland to try beer. There is a famous beer or two that people come for, but it would be great if it was just as easy for them to visit the great craft breweries in the country."
It's quite clear then, that all of the ingredients for growth of the craft market are there. The passion and the skill are poised waiting. Irish brewers are doing all they can but what the Irish market shows us is that connection to your local market is key. It is that interaction combined with the brewing and the beer that grows the market and at Simply Hops we are hoping to see all of the brewers across Europe build ever stronger support bases. Legislation and licensing changes are just part of this. Our support as a supplier is also important and we plan to do all we can to help.