We are seeing online homebrew orders rocket. Geterbrewed Covid 19 Operational Activity Report 09/10/20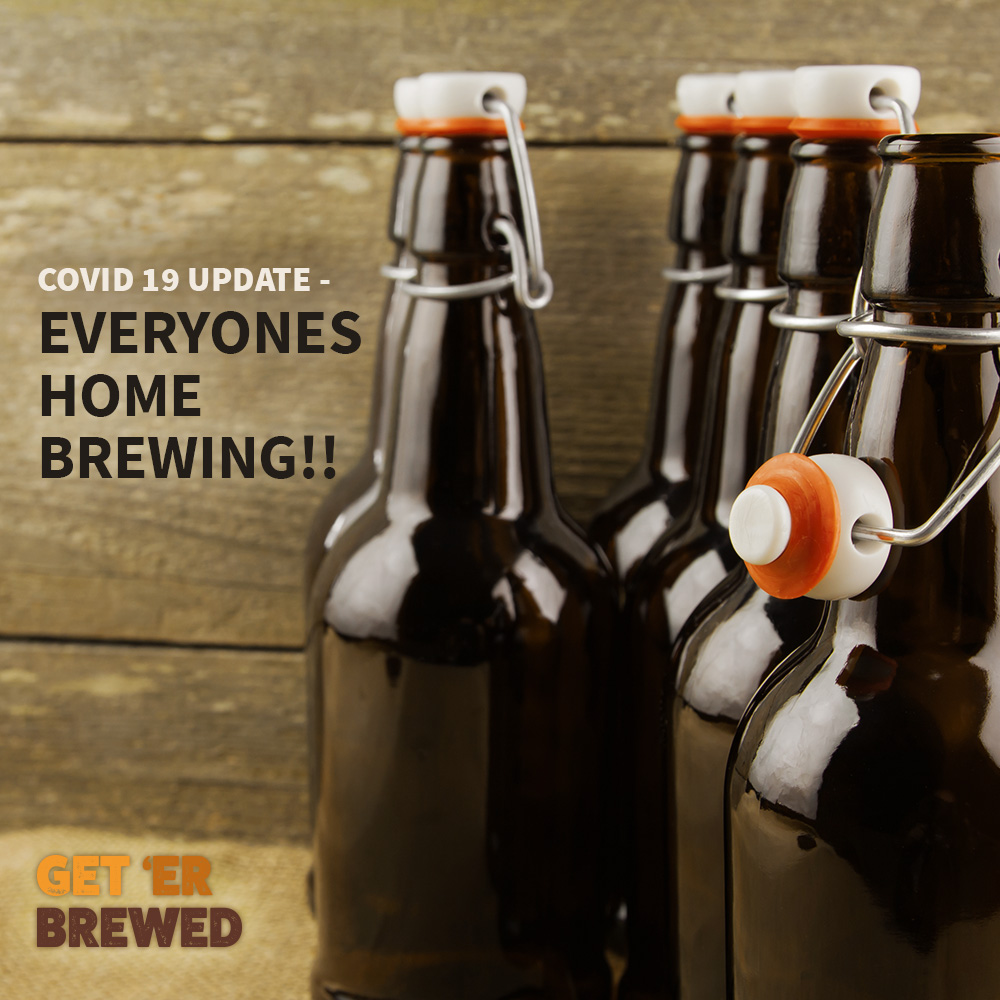 Homebrewing is seeing somewhat of a renaissance and clearly the joy of doing a brewday is helping people navigate through these strange times, we are also seeing a lot more people building their own home bars and adding kegerators and all in one brewing systems to their catalogue of home luxuries. 

To give an update on our operational activity its first and foremost that we ask you to understand we need to take steps to keep our staff safe and provide a service to our valued customers that is reflective of our company values, that's a balancing act at the moment .
We usually aim to have express shipping and dispatch times to match our incredible value and premium quality. Geterbrewed strive to provide the best customer service, we want to be a true one stop shop for your brewing needs and we communicate with you in a prompt and responsible way, so we ask for a little understanding at this time due to the demand being placed on us.

We genuinely thank you all for your support as without our customers we wouldn't get to do what we love. We are only a small team of 20 but we are passionately independent and driven to grow our business. We supply breweries and home brewers with the finest ingredients available sourced from all across the world so we have seriously good stock levels of the core component ingredients to create your beers. https://www.geterbrewed.com/
Recent demand has been huge…

Over the past week or so we have experienced a spike in demand for home-brew orders that has put some extra strain onto the team at the warehouse. We are now advertising that it can take up to 2 days to process your order. When this pandemic hit we experienced demand like never before and through it all we never closed, we did get to a stage where we where actually hovering between 5-7 days behind on orders and we fought through the orders and got ourselves back up to a super efficient service, this time around we don't intend to allow that to happen again and may have to restrict the amount of orders we can process.

The GEB team
We have everyone socially distanced and protective measures in place throughout the warehouse. Our team are now working staggered shifts 7 days per week. Primarily this is for their safety https://www.geterbrewed.com/our-team/

Stock Levels
Online Homebrew order stocks are generally very good, we have been increasing our stock holding in planning and have been providing forecasts to our suppliers to ensure constant supply, we have significant volumes on the way from all suppliers but some wholesalers simply state they can't meet demand and they are shipping short , this is mainly on homebrew kits 

Amending Online Homebrew Orders
Please try and get your order right first time as amending orders at the moment isn't possible, if you need to combine two orders email us and we will try our best to merge them and refund one shipping label

Shipping
We have been communicating with our couriers and they too are seeing a continued spike in demand, we are in the process of adding extra services and we hope to have these new express premium shipping options added in the coming week, that will also allow us to ship worldwide. When your order is dispatched you will receive an email in the customer notes we add the dpd tracking ref and you can monitor the progress via dpd.ie

Communication
We are trying to answer emails, social media messages as quickly as possible, we would ask that you only telephone if 100% necessary as its taking away from our ability to process orders quicker if we are answering calls. We appreciate your calls and sometimes you just need to run through a few questions to make yourself comfortable but until we get on top of this spike can we keep them to a minimum please. We are still providing technical help and trying to provide responses to your queries as quickly as we possibly can, you may get a reply at 10pm instead of during working hours that's how hard we are working to keep you updated

Collection at site
This is currently not available and we can only fulfil online homebrew orders, we are trying to protect our staff and keep them safe so we can't have anyone calling to collect orders.

Your local Breweries
We supply a lot of commercial breweries and they have really had a tough time of it lately with the on trade business being hit so hard so when you can please support your local breweries and buy their beers! Never has supporting local been so important