This year well…. to summarise the weather saved the day, the sun was shining, the queues got longer and the breweries well they sold out….yes I said sold out!!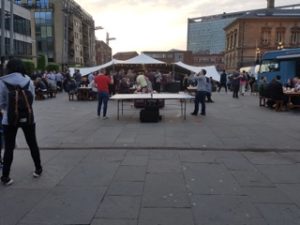 I have to say i'm pleasantly surprised by this and feel had the sun not of been shining i'm not so sure the organisers would have been back for another year.
This is the third year the event has run at Custom House Square Belfast and we had a stand at the event with our own brewery Hillstown Brewery and one of our brewers has started to cuckoo brew with us, so he brought 11 new beers under his Barrahooley brand. I'm kinda proud of what Sam achieved as he worked his nuts off on the run up to the event brewing specials for the Belfast beer crowd and they flew out all weekend. He gave up a corporate job to follow his passion in brewing.
Highlights for me were the Juniper Gin Gose from Lough Gill Brewery, the NEIPA 5 from Rascals plus Boyne Brewery & Barrahooleys Imperial Stout Offerings. I'm not a massive cider fan but I was really impressed with Mckeevers Rhubarb & Honey Cider.
My guys did a blueberry sour for Hillstown Brewery and we showed off the NEIPA we brewed with the Porterhouse brewery called Hazy Border, this was brewed during our brewing seminar and I was super pleased with the feedback.
A mention to Samuels Brewery also as I spoke to Gary, he left a job working for Tennents to try his hand at launching a brewery In Northern Ireland, this is some undertaking to be fair to him, he is contract brewing at Knockout brewery and whilst he isn't trying to reinvent the wheel he wants to try his hand at offering beers with actual flavour here so fair play, he's driven and I hope to see more of this happening
I enjoyed the craic on the friday night and have to say the music was cracking the food was great & the crowd was really enjoying the atmosphere so I drank a little too much on the friday and decided to work the saturday night but still had a laugh and it was great to put some faces to the names we often interact with on social channels.
Next year is booked and with the lift in the marketing and promotion this year and the success of this years event i'm sure next years will be bigger and better.
We need more support for the local craft beer scene, sadly only about 2% of beer consumption is craft beer in Northern Ireland and we need to get away from the Macro strong hold on draft beer to help the local Micro breweries grow, so if you see a beer festival promoting local craft beers go along and show the guys some support.
I have an understanding of what it takes and believe me when I say it they need your support to survive.