Walled City Brewery is a true actual genuine brewpub in Northern Ireland
Yes you read that statement right, they are one of a kind!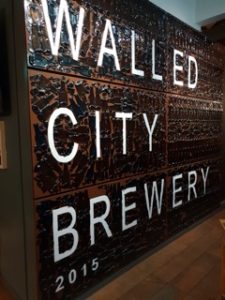 Great beers brewed on site and a cracking restaurant all under one roof. What amazes me is the people and staff behind it, they are passionate and love what they do, invested in making it a success.
The brewpub opened in 2015 with a 200 litre microbrewery supplied by Geterbrewed. The Ebrington army barracks repurposed, the brewpub faces out onto the old ebrington parade square and on the other side is the peace bridge which links you to the city and its a great walk, we took a wander over for a pint in the Guildhall Tap Room.
I recently visited Walled City Brewery for a food pairing evening and I was really impressed with the buzz in the area.
James and his team could have done what everyone does and took a tap tie from one of the Macro brands but he remained fiercly  independent and earned his place as a successful established business the hard way.
The Walled City Team produce a range of their own beers on site and they have a kitchen  using local produce and knocking out some beautifully tasty meals. The chef Mike popped out to walk around the tables and check how we found our meal.
Stephanie did a little talk on a cocktail she created and just casually described a cocktail she created with a local Gin "Frankie & Eileens Distillery" and a New England IPA brewed on site. She drops into the conversation that the garnish was gorseflower she picked while walking her dog earlier. Describing the beer how it was brewed and how she felt the ingredients complimented each other all topped off with a gorse flower garnish to add a little coconut note.
The cocktail was beautifully refreshing. The beers on tap had a wide variety of styles and I can easily say they have something for everyone. The food was equally impressive so the combination of craftbeer, craft spirits, locally sourced food and passionate and knowledgeable staff makes it a winner for me. You can see the brewery as it's positioned at the bottom of the restaurant this adds to the altogether genuine feel and experience. They also run a homebrew academy which we love as they are actively promoting the hobby.
I'm hoping to see the Ebrington square developed further and highly recommend you check this brewpub out. There is a vibrant buzz about Derry City and it was great to walk around the local bars and see local breweries starting to get some tap space.
Thanks to the Walled City Team for a great experience
Jonathan