We have teamed up with Crisp Malt to bring a flavour of the Irish Craft Beer Scene to London for the 2019 Craft Beer Rising, honestly get tickets this is an awesome festival…
So we have 6 key customers attending and we will be pouring their beers all weekend including some special collaborations between the Irish brewers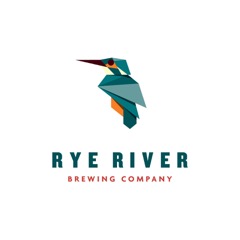 Rye River have been producing some amazing beers in the Irish Beer Scene for coming up on five years, we have recently been getting to know the team on a more personal level over the last year.
The Rye River team work hard, to give you an idea they produce a staggering volume of craft beer every year. 2018 seen them craft well see the pic from their twitter post below….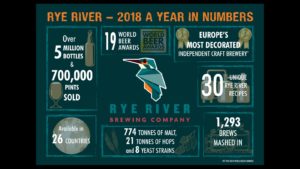 Decorating their beers with a huge array of awards and steering the business upwards is a real credit to all involved.
Geterbrewed proudly work with Rye River on their ingredients and we are building a longterm relationship with them, we both recognise Crisp Malt as the finest malt and we recently had the pleasure of collaborating with them focusing on the Chevallier Heritage Malt  barrel aged in virgin oak which will see two beers launched at Craft Beer Rising…
Delusional Stout
Caber Toss Wee Heavy
Rye River brew seasonal specials throughout the year, they have the McGargles brand and they contract brew some of the most impressive supermarket beers you will ever taste, seek out The Crafty Range (LIDL) Solas (TESCO) & Grafters (DUNNES)
Bill Laukitis their head brewer has genuinely worked his way up from entry level to leading the team. A talented and creative brewer who has technical ability working in harmony with creative flare.
Tom Cronin their MD has taken the Rye River beers into 26 countries an enviable acheivement . Focused and driven he continues to promote Irish Craft Beer on a global scale.
Join us at Craft Beer Rising and we will let the liquid do the talking, get tickets here: