You need to visit this region, It impressed us…..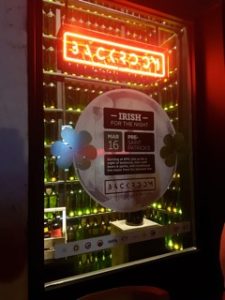 Genuinely a heart warming experience, we collectively as a group of Irish Brewers & Distillers travelled to Beirut for a St Patricks celebration, hosted with the finest hospitality from the Fattal Group who now distribute our range of Craftbeer and Spirits.
A diverse range of brewers and distillers from across the Island brought together by Liam and Shane from 'Ireland Craft Beers'. I have to say I'm super proud of what they have acheived, I also want to make a special mention of thanks to them and especially Paul Choueiry also who co ordinated the whole visit perfectly.
We met distributors, buyers, customers, the media and the British Ambassador Hugo Shorter even popped by to try our beers and spirits. We bonded as a group throughout the weekend and we're happy to say we made many new friends and the "Craic was mighty!"
Don't be afraid to visit this beautiful location, many told us we were mad to be travelling to Beirut. We did have a little nervous energy but it really wasn't necessary
There is simply too many enjoyable moments to describe in a blog entry but i'll happily say we all had a ball!
So who attended from Ireland? Check them out at their trade event stands below
Blackwater Distillery
Bertha's Revenue Gin
Echlinville Distillery
Whiskeygate
Blacks of Kinsale
Eight Degrees Brewery
Hillstown Brewery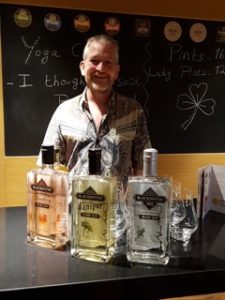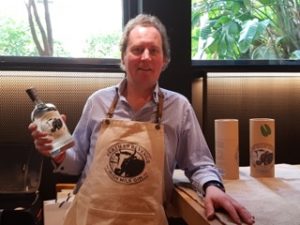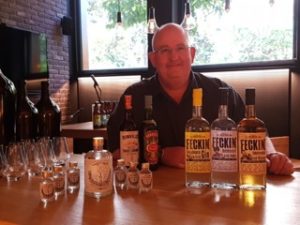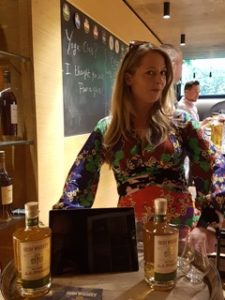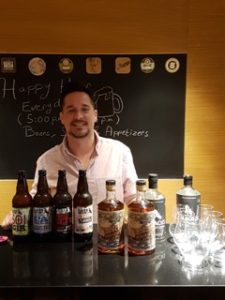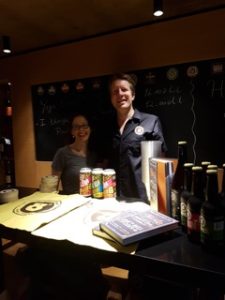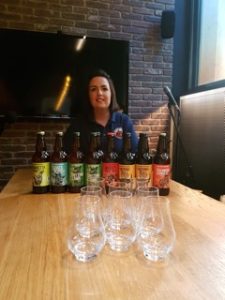 The Agenda?
To sell Irish Craft Beer & Spirits in Lebanon….well it's already established and we enjoyed seeing its growth in a very short period of months.
Thursday night at the "Backroom Beirut"….. A beautiful bar that has been set up to showcase the finest wines, beers and spirits on offer. Every tap on the bar was pouring Irish Craft Beer and the selection of fine wines & spirits was amazing. The quality of the build is flawless.
The staff make the difference in the Backroom Beirut , they were passionate about quality, they know how to suggest recommendations and they know how to present the beverages plus they know the Brands story. All the beers are cold stored, every bottle of beer or key keg is maintained at optimum temperature. The Gins were served with knowledge and style also
On the Thursday night we were treated to some beautiful food and amazing beers, spirits and champagne. It's fair to say we received the 'Red Carpet Treatment' It was very evident that the staff were pleased we had visited and I found it rewarding to hear them say how many of the locals now love Irish Beer & Spirits.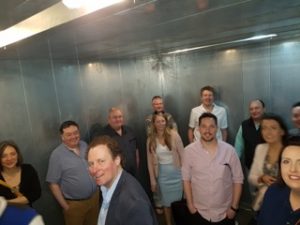 Friday was an experience, we went to the warehouse at Fattal that has been storing our beers and spirits, securely into the lift we descent into the basement to be greeted with, well lets face it 'Warehouse Envy' Clean tidy and very well laid out, again climate controlled storage for the beers which shows these guys really care about the quality.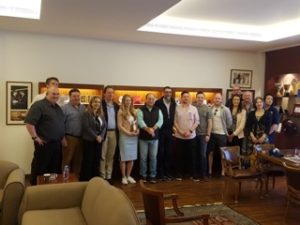 We then received a special invite to the "Heritage Room" at Fattal Headquarters, Mr Hubert Fattal the Chairman of the company casually greeted us with a smile and a gentle nature, he explained the history of his family business, in it's fourth generation now he described it as a mix between Art & Business. He took us on a story of Resilience and how the company has overcome many obstacles including wars.
Fattal are the gateway for eight lines of distribution across the Middle East & North Africa and we are very privileged to have been selected by them as their choice of Irish Craft Beers & Spirits.
Fattal supply no matter the circumstances and the brand appears to have a unique blend of "Western Sophistication, Oriental Charm & Middle Eastern Chaos" They successfully operate in volatile, uncertain and complicated areas, always improvising and adapting.
Fattal are a company that are genuinely invested in their suppliers, they build lasting relationships and uphold the best business ethics and we are very proud to have been selected to work with them on their range of Irish Craft Beer. Initial trials in the market place have now secured us a space on their catalogue.
On the Friday evening we were personally proud to hear that our beers had been really well received and we were excited that the first shipment had nearly all sold out and we had customers awaiting the latest shipment arriving in a few weeks. We did some interviews with the media and then partied with the public, and I mean we partied, some more than  others but i'll let them tell you about that…..
The Traditional Irish Band headed up by Noel had been flown in from Longford and they played some beautiful songs and Liam even sang a few songs, and yes the lad can sing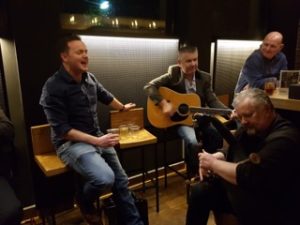 A BBQ out the front and beer flowing inside and out the building led for a very enjoyable evening many locals were keen to chat about beer and learn about Irish Craft Beer and Spirits.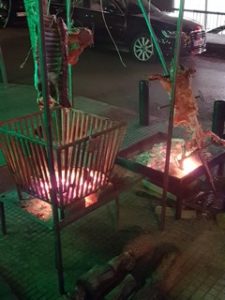 To end the night we sung and stubbled our way home through the streets of Beirut, we felt safe and well received and it helped break down our misheld perceptions of Beirut prior to the visit.
On Saturday morning we met with a friend of Pauls' – Sami, he is a keen home brewer who wants to open his own Brewpub. This excited me as he was very passionate and simply wanted some constructive feedback to help him improve. He currently works in the legal profession but wants to jump into the brewing industry, the tasting showed me that he had great potential, he was somewhat restricted to a small variety of ingredients and has to work with a limited selection.
A few tweaks on his water treatment and I think he's there, I'd be super excited to see a Brewiks Microbrewery Brewpub in Beirut, I've already made contact with Brewiks to do a special deal for them.
Craft Beer in my opinion creates a community, not just with the beer drinkers but with the brewers, we are always willing to help build that community because if the smaller guys work together then then there is strength in numbers.
Beer tasting for breakfast was followed by a visit to the "Golden Star" a real premium feeling shopping centre which we'd love to be in regularly if we lived in the area. Downstairs was a mix of food and groceries and upstairs had a selection of the finest beer, wine and spirits available. I even spotted a 1.5 litre bottle of Louis XIII, one of the rarest cognacs in the world. The owner of the shop Sami is a huge supporter of our Craft Beer & Spirits.
A short journey followed to Byblos and we visited Eddesands , again the owners have been huge supports of our Craft Beers and Spirits and the band joined us again for an evening of great laughs. This area is very beautiful and I really soaked up the atmosphere, on the coast of the Mediterrean enjoying the beautiful cobbled streets , talking over coffee, enjoying some amazing lebanese food, it was bliss.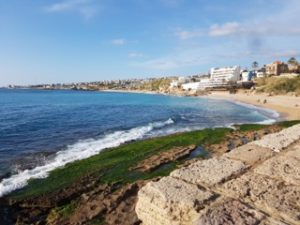 Now for a few special mentions for the entertainment in the later part of the evening, Anthony from Berthas Revenge Gin is a real treat to party with, such an entertainer when he hit the stage, again more beautiful music from Noel and his band and a delicate solo performance from Louise!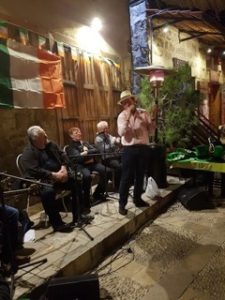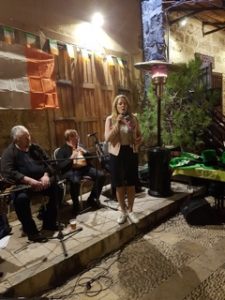 We felt blessed to have been part of this experience and are thankful especially to Paul Choueiry for falling in love with our products and our wee country!