The Brew Monk Range – All Grain Brewing Equipment You Need to Get Started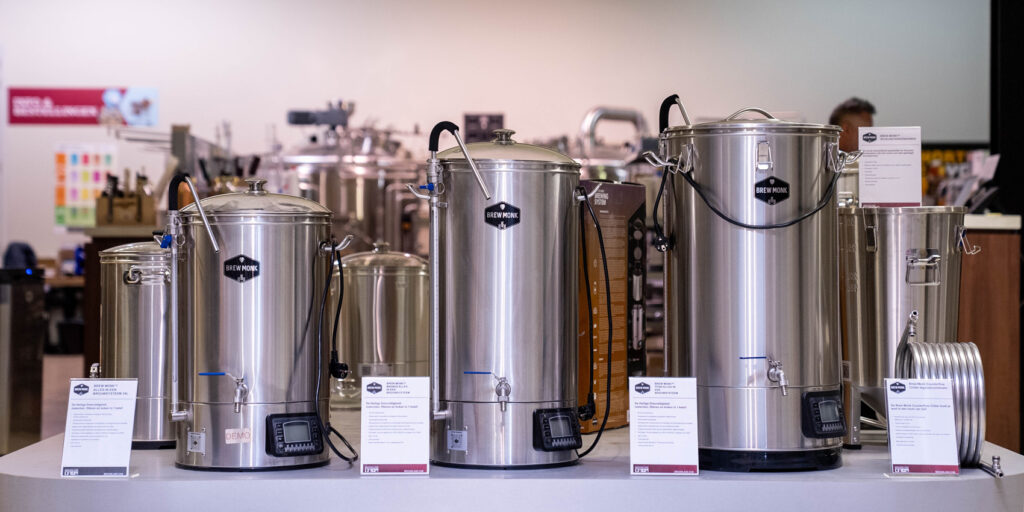 Introducing the Brew Monk Range, the perfect all-grain brewing equipment to get you started on your homebrewing journey! Whether you're an experienced homebrewer or just getting started in craft beer, this has the tools to make great beer at home. Featuring a variety of tanks, mash tuns, fermenters, and other all-grain brewing equipment. Brew Monk has everything you need for a successful brew day. With quality materials and craftsmanship, these products are sure to last for years to come.
Overview of the Brew Monk Range
The Brew Monk Range is an all-in-one, complete home brewing system perfect for those looking to make their own beer. The system includes an 8.5-gallon stainless steel kettle, a programmable controller, and an integrated malt pipe with a 2,500-watt capacity. For an affordable option, the system also includes a stainless steel fermenter. Additionally, the Brewferm® Grain Gorilla malt mill is a great way to get the most out of your beer. This malt mill features adjustable stainless steel rollers, side knobs, knurled steel bottom plate, and a 50 kg/hour capacity. To finish your brewing process, the Brewferm® Chill'in 20 stainless steel wort chiller provides a 20-litre capacity, 20-25 °C cooling temperature. This has a smaller diameter, allowing for easier transport and storage. With the Brew Monk Range, you can make your own beer with ease and precision.
Why All Grain Brewing?
All-grain brewing is how professional brewers make beer, and it's the purest form of beer making. By only using grain instead of incorporating malt extract, you have much greater control over the outcome of your beer. The cost of ingredients makes all-grain brewing a very affordable way to produce your own beer. As well as complete creative control over your beer-making process. The experience of homebrewing is an event to enjoy as you make your own beer to your own exact specifications. With this range, you can easily access all the necessary equipment to begin brewing with grain. From starter kits with everything included to components that enable more experienced home brewers to make their own beer from scratch, the Brew Monk range has got you covered.
There is something for everyone, from malts and grains, mash tuns and kettles, filter bags, fermenters, bottles and bottle cappers. Additionally, they offer extensive support, including tutorials on various aspects of the brewing process. So even those starting out on their journey in home brewing will feel well-equipped for success. There's nothing like having the freedom to make your own beer according to your own tastes, flavours, and preferences. You can do just that with the right gear from the range! It doesn't matter if you're looking for classic styles like stout or pilsner or something new like a fruited sour. Whatever style of beer you make will benefit from having quality equipment for every step.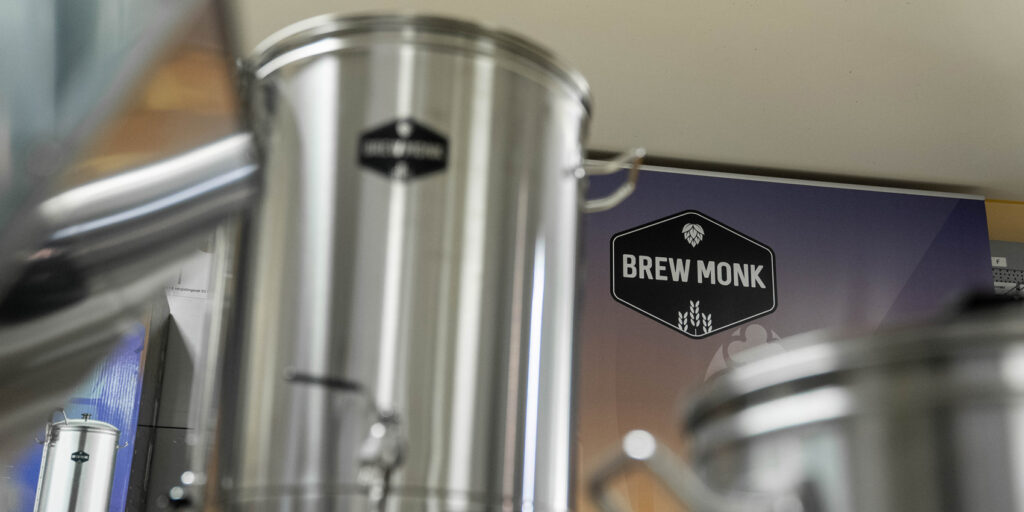 How to Use the Brew Monk Range
The Brew Monk Range is an automatic all-in-one, stainless steel brewing system with a capacity of 30 litres. It features a programmable controller with a tilted digital display and a capacity of 2,500 watts. The programmable controller has a tilted digital display and can programme up to 9 brewing steps and 9 hop additions. Its temperature range goes from 25-100°C with a division of 0.1°C. You will no longer have to waste hours making small adjustments or stressing out over not getting it right – the Brew Monk Range takes care of it all!
Other features include:
A robust bazooka filter with screw thread in stainless steel.
A telescopically adjustable malt pipe and screens with a capacity of 8 kg.
A reinforced bottom plate.
Integrated transparent circulation pipe with a litre graduation and valve.
Removable SST ball valve 1⁄2" with a nozzle of 13 mm
Glass lid to monitor the mashing process.
The Brew Monk Range is perfect for anyone looking to make their own beer at home and comes with operating instructions available in 11 languages. With the Brew Monk Range, you can be sure you have all the tools to make your own beer quickly and easily. Furthermore, the telescopic malt pipe makes measuring out ingredients simpler than ever before. Finally, with its three-year warranty, there is no better way to make your own beer than with the Brew Monk Range!
Tips for Getting the Most Out of Your Brew Monk Range
There are a few helpful tips and tricks for those looking to get the most out of their Brew Monk Range all-grain brewing equipment. First, be sure to take advantage of the numerous videos on the Geterbrewed Youtube channel highlighting the quality of the Brew Monk Range. This will give you a better understanding of how to make your own beer with the right equipment.
Next, take advantage of Brew Monk's full range is exclusively available from Geterbrewed for the UK & Irish markets. This means that you can find everything you need in one place to get started. Finally, remember that the Brew Monk Range is designed to make it easy to make your own beer from scratch with high-quality ingredients. With the right setup and an understanding of the steps needed, anyone can become a master brewer! Once your equipment and ingredients are ready, the first step is to mash your grains. This process turns the starches into sugars which the yeast can use as food when fermenting. Once the mash is complete, you'll need to boil the wort (the liquid obtained after mashing) to add hops and sanitise the wort. When this stage is complete, you can transfer the cooled wort into a fermentation vessel so the yeast can start doing its magic. During fermentation, check on progress often to ensure your beer turns out just as you'd hoped! After fermentation, carbonation and bottle conditioning is the final step in making your own beer. Lastly, enjoy responsibly and share with friends so everyone can experience your homemade craft beers.
See the full Brew Monk range HERE