Interested in maximising the capacity of your fermenter? You need HopAid Antifoam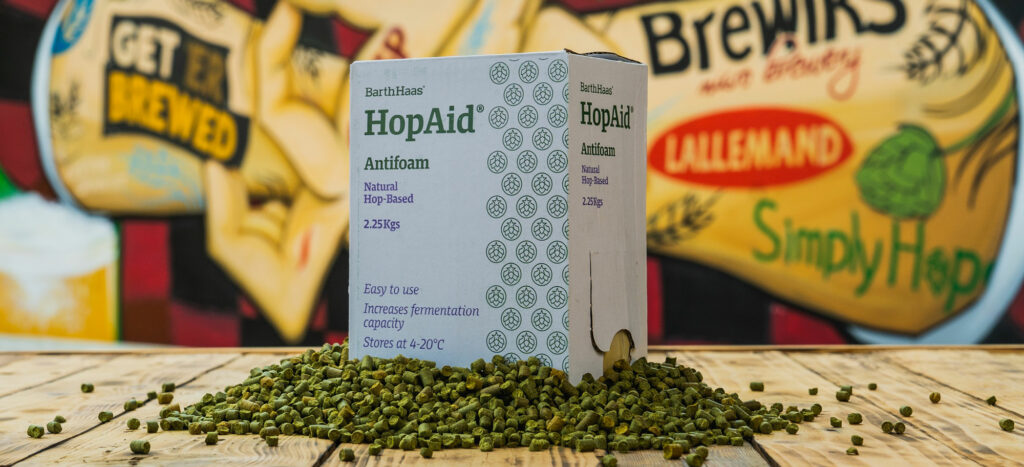 HopAid Antifoam is a great natural product that can be used during fermentation to allow you to increase the capacity in your fermenter. HopAid Antifoam is dosed into the fermenter at the start of fermentation and it does a great job of preventing excessive foam from yeast activity allowing you to increase your headspace by up to 20%
Prevent excessive foam naturally and reliably.
HopAid Antifoam is a natural, hop-based anti-foam agent. The product is exclusively available from Barth Haas, as an approved distributor for Barth Haas we have the HopAid on stock and available for express dispatch.
The suspension is suitable for use with top or bottom-fermented beers in all types of fermentation tanks. HopAid is proven to increase your fermentation capacity; you will need less headspace. It has no impact on the final beer's foam retention properties.
Hop derived. A hop extraction suspended in a food-safe emulsifier and water.
Easy application. Just add to cooled wort when filling the fermentation tank.
Long shelf-life. 18 months when stored properly.
Clean Packaging. "Bag in a box" design minimises potential contamination.
We have HopAid Antifoam available to both commercial brewers and homebrewers on the Geterbrewed websites
https://www.geterbrewed.com/hopaid-antifoam-2.25kg-wholesale/
https://www.geterbrewed.com/hop-aid-anti-foam-15ml-home-brew/

Application
HopAid Antifoam should be dosed into cold wort. Either inline or, alternatively, dosed into the
fermenter before the cold wort is transferred. This will ensure good mixing with the wort which is
essential for optimum performance. Dosing into hot wort will lead to unpredictable losses in the hot trub.
Depending on the brewing recipe and fermentation regime the dose rate for most applications will lie
between 5 and 50 g/hL. For a normal strength lager type, a starting dose rate of 20 g/hL is recommended.

However, fermentations with high levels of foam stabilising substances such as hop acids and proteins,
dark malts and higher fermentation temperatures may require higher dosing rates. Products with high
levels of adjuncts may require lower levels of HopAid addition. If the brewer is using a
synthetic, silicone-based product the dose rate can be used as an indication. In most cases HopAid
Antifoam should be dosed at 2x the concentration as the silicone-based product.

Effect of HopAid Antifoam on the final beer
Technical studies and feedback from customers have not shown a negative impact on final beer foam, in
fact some data suggest a positive one.

HopAid Antifoam is incompatible with strong acids and bases.
Strong acids and strong bases will damage the anti-foam, so HopAid should not be added to
yeast directly after acid washing of the yeast. Beer pH is fine.