Gin Botanicals
There are hundreds of botanicals which can be used to flavour gin which is what makes it one of the broadest categories in spirits in terms of flavour, origin and styles.
The most crucial botanical used, which is essential in the gin making process is Juniper Berries. Fact: Gin is derived from the word juniper! Regardless of all the different styles of gins, the one thing that they will all have in common is that they are all predominantly juniper flavoured.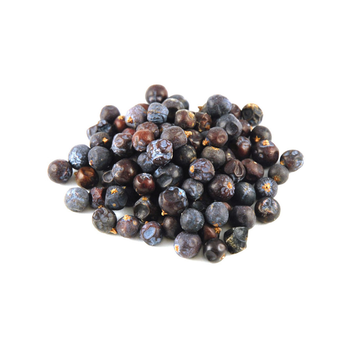 The Coriander Seed, is nearly as common a juniper itself appearing in many gin products. Coriander has a long history of importance for both food and a perfumer's ingredient. Depending on the distiller will depend on where the botanical is sourced from. The Coriander Seed all at once will give off a citrusy, nutty and a little spicy variety of flavour.
Angelica can be an unfamiliar major gin ingredient used with many not realising how commonly used this botanical is. Similar to Coriander, Angelica is closely related to the carrot family with the herbs which make up the Angelicus genus grow nearly everywhere in the northern hemisphere. The role of the botanical is to act as a binding agent in order to promote combining the other botanicals together to enhance the variety of flavours each one gives off.
The Lemon Peel is the most common citrus fruit used in gin, providing a distinct citrus aroma. Lemon peels, like other citrus fruit contain a large amount of limonence, the aromatic which is mainly responsible for the bright aroma associated with citrus.
When it comes to oranges, these can be divided into two sub categories- sweet and bitter. Both types of oranges can be found in gins. Typically, the peel of a Seville Orange (bitter) is used to dry and the peel of the sweet orange is used fresh.
The Orris Root, known to help hold the other fragrancies in place- a fixative in perfume for many centuries. They are left for as long as 5 years to dry, before being ground into powder, added to water and distilled. The Orris Root binds and stabilizes other flavours, resulting in being more likely to detect it by the effect it has on other ingredients.
Cardamom is another botanical becoming more common in the gin world! Its exotic aroma adds and expressive, spicy note. It is one of the most expensive spices, with very little needed to impart its strong flavour, Cardamom can be challenging to work with as its essential oils and aromatics are very volatile and degrade quickly.
Liquorice is a sweet, woody botanical which contains a natural sweetener. Liquorice root carries a unique taste with the often misconception that people assume that Liquorice root is similar to Liquorice sweets- which is in fact wrong!
Grains of paradise are rarely used outside of traditional African food cultures. The seeds have a woody, almost piney aroma, and slightly reminiscent of cardamom.
Other important botanicals may include Lavender, which is increasingly becoming more popular in the use of some gin. As well as a fragrance, lavender is used as flavouring with many distillers normally opting to steep it in their pot at the last minute to avoid dominance over the rest of the botanicals. Fennel may be used by gin distillers to impart a liquoerice-like warmth and spice, becoming more common especially in contemporary style gins that emphasis herbal profile. As gin continues to expand in the world, new botanicals are starting to increasingly show up never before being distilled with juniper.
We have our very own award winning Gin Distillery at Get Er Brewed called Frankie & Eileens so you can have confidence that we are supplying the finest gin botanicals available in the world

Frankie & Eileen's: This premium liquid is made up of a variety of 13 botanicals, left to mature in a copper still for 36 hours prior to starting the distiller process. The still (did we mention is hand-built locally with the copper sourced from Ireland) is then run low and slow to ensure the best cuts are made- as flavour is Frankie and Eileen's top priority!
Botanicals used are Juniper, English Coriander Seed, Angelica, Lemon Peel, Irish Potato Peel and Pea Pods (which in fact work in harmony with the Macedonian Juniper Berries and Spanish fruit peels), Orris Root, Liquorice Root, Cardamom, Grains of Paradise, Cassis, Bitter Orange, Sweet Orange.
Gin Botanicals available for Craft Distilleries in bulk can be bought here:
https://www.geterbrewed.com/gin-botanicals-en/
https://www.geterbrewed.ie/gin-botanicals-en/
We have smaller quantities of luxury Gin Botanicals available in the following links:
https://www.geterbrewed.ie/luxury-gin-botanicals/
https://www.geterbrewed.com/luxury-gin-botanicals/
Blog written by Lauren Shaw our new Gin Brand Ambassador and Sales Executive for Get Er Brewed.