We have teamed up with Crisp Malt to bring a flavour of the Irish Craft Beer Scene to London for the 2019 Craft Beer Rising, honestly get tickets this is an awesome festival
So we have 6 key customers attending and we will be pouring their beers all weekend including some special collaborations between the Irish brewers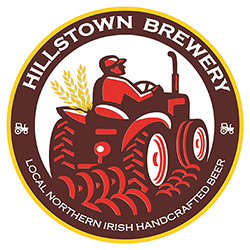 Our sister brewery Hillstown will be there. The Northern Ireland based brewery was created in partnership with our friend Nigel Logan from Hillstown Farmshop and the brewhouse is now proudly located on the farm. Launched in 2014 initially as a beer fed beef project for the on site butchery it now produces a core range of 6 beers, complimented with a range of seasonal specials.
The latest releases include: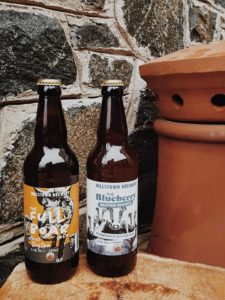 1. The Blueberry Badger Parade 3.5%
Hillstowns first sour beer, Geterbrewed managed to get us some commercial samples of a new helveticus strain of bacteria, we blended this with sour pitch planetarium strain and soured the wort in the brewhouse kettle for 24 hours prior to boiling off the wort and adding a little citra hops. Big thanks to Rob Percival from Lallemand for the technical help on this project
We fermented the beer at a high temperature with Belle Saison yeast and then used some juniper botanicals from Frankie & Eileens distillery to add to secondary. We have allowed this beer to condition for several weeks with the botanicals prior to bottling. The amount of Blueberries in this beer makes up 55% of the content, its complex yet super crushable as its only 3.5%
2. The Full Boar Crew 6.2%
The new trend for IPA's, a Brut IPA much like its champagne name is a super dry beer, we have fermented out all the residual sugars with the addition of glucoamylase 400 paired with a beautiful Lallemand New England yeast which has imparted some nice stone fruit flavour and we have late hopped the beer with lots of the latest harvest of Simply Hops Aussie varieties. The hop flavour profile is super fresh and packed with delicious hop flavour
Jonathan is the creative recipe designer usually starting the pilot batches on his homebrew kit and then passing the recipe onto the brewers to turn it into the commercial format.
New brewer Kevin McLaughlin is producing some of the best beers to date, again a home brewer turned pro he is dedicated and passionate about the Irish Craft Beer Scene, he is even known to do a little blogging on beer in his spare time
Hillstown Brewery recently launched with new distribution partners in the UK, the juvenile NI beer scene has enjoyed their beers since 2014 but as with many Irish brewers the local consumption rate is low so focus is mainly on export opportunities.
Hillstown collaborated with Rye River Brewery & Hilden Brewery for special beers to be released at Craft Beer Rising.
Join us and meet some of the key players in the Irish Craft Beer Scene at the festival in London, you can buy tickets here: