Imperial Yeast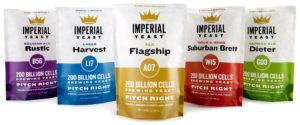 Organic Liquid Liquid Yeast grown in Portland, Oregan and shipped on ice to Ireland for distribution via Geterbrewed
We are always looking for innovative new product ranges to excite the brewing community and when we reached out to Imperial Yeast about becoming their Irish Distributor we felt that it was a good match so we have a huge range of their organic liquid yeast packs arriving this Friday.
As with all our yeasts they are correctly cold stored and when we ship liquid yeast we send a free ice pack to ensure that it arrives with you in optimum condition
Imperial have certified organic brewing yeast, we all know how proud a brewer can be of their beer and they want to ensure that the ingredients used are the best possible, imperial produce high quality organic yeast that is GMO free and 100% natural. The first yeast company to be certified organic and produced in an environmentally friendly way.
So what does it mean to pitch right? If you want to notice an improvement in your fermentations immediately then you need to make sure you are pitching the correct amount of yeast cells, You can't see yeast cells with the naked eye but you can have confidence in imperial yeast that they have. There is 200 billion cells in the Imperial Yeast Pouch
You don't need to make a starter in a 5 gallon ( 23 Litre ) batch if the gravity is below 1070
What's the best way to open and pitch the Imperial Pitch Right home brew pouches?
Store refrigerated until ready to pitch.
Shake and kneed pouch to homogenize slurry.
Sanitize the sealed pouch.
Open and pitch entire contents into the well-aerated wort.
Checkout the extensive range of yeast strains here;
https://www.geterbrewed.com/imperial-yeasts
https://www.geterbrewed.ie/imperial-yeasts-en